About me
Dear nail artists and everybody who wants to become them!
My name is Inna Gorodnova. I went through a long and very difficult way from a simple salon master to the winner of prestigious championships and title of the international class coach.
I can say for sure, in order to learn how to make nails, to become a real professional, you have to study seriously and spend enough time for your education, to learn from professionals who have achieved something.
In 2008 I won the championship "Golden hands of the World" among VIP level nail artists and the same year I got the title 'Golden Hands of Ukraine'. And a year later I won the first place at 'European Championship in Prague'.
I am a judge of international category, and all levels Nail Coach - from basic to creative.
In a career of nail artist, I can underline several components of success: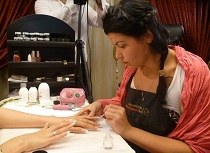 • a strong desire to learn and practice
• good basic education
• high-quality products
• continuous improvement of the qualification.
Modeling of artificial nails - it's not just a business, it's work with people. It demands commitment – both physical and emotional. For a qualified professional it should be no difference what kind of service to provide to the client (nail design or nail care and with what kind of technology: acrylic or gel, french manicure or nail art). It is important to use high-quality products and for the shortest possible time. And the most important is that your work should bring delight and pleasure to the client and artificial nails should facilitate the life, instead of complicating it. And always remember, the more you are able to do as the nail artist, the higher is your cost.
Believe me, it is extremely important to receive the necessary bases at the very beginning of a way because it's always much more difficult to retrain incorrectly trained person. Only skilled coach should teach you about hands positioning and choose the direction in which you'll continue to move. In this case you will save a lot of time and money before getting too many mistakes and learn from them.
Unfortunately, its lack of responsible and professional approach to education in many nail academies and nail centers. Very often the purpose of people who try to organize nail modeling training courses is money. In this case you risk to waste your time, suffer financially and to ruin your future nail career.
You should be responsible with the most important step in your life - to choose the direction in education and career. Thus you will see how you can change your life!
I wish success and professional growth to everybody and I wait for you to visit my nail classes. With all my pleasure I am going to share my unique author's methods, knowledge, practices and experience with everyone who wants to grow, make or develop business.
I provide professional support to my audiences during the workshops and working process, giving advices on all questions relating to practical and tecnhical skills. All my students successfully use received knowledge and skills in their practice. Many of them are successful in nail business, they are competitive, plan their career and open own directions.
Finally, I want to thank all wise coaches and people whom I had the privilege to know. Because of them I fell in love with this profession and remain in it. Special thanks to House of Manicure Elena Shanskaya.
See you there!
My achievements